Out with old, in with the new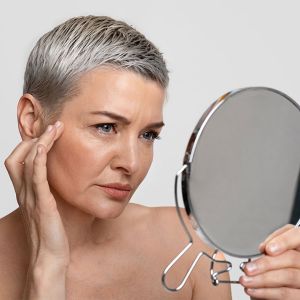 Using chemical peels for a confident, beautiful you
If you're looking for a more favorable response from your mirror, mirror on the wall, a chemical peel can slough off the old skin and usher in new, more radiant skin.
Adults of all ages, as well as those in their late teens, can benefit from a chemical peel that targets their personal concerns with specific ingredients and levels of strength.
What exactly is a chemical peel? As the name implies, this cosmetic treatment involves an acidic solution that's applied to the skin by a trained aesthetician to exfoliate one or more layers of damaged skin and unveil new skin with improved texture. There are three levels of chemical peels, starting with light and moving to more intense medium and deep peels.
To prepare a person's skin for a peel, an aesthetician first cleanses the skin. The chemical solution is then applied with a brush and left on the skin for the prescribed amount of team. As the chemicals take effect, the patient may experience mild tingling, stinging or a warm sensation. The chemical peel is then washed off and neutralized with lotion to soothe and moisturize the skin.
Light Chemical Peel
The mildest type of chemical peel is a superficial peel that lightly removes only the outer layer of skin. Generally suitable for all skin types, a light peel can be the right choice for patients with:
√ acne
√ uneven pigmentation
√ fine lines and wrinkles
√ dry skin
The skin may flake, sting or peel for several days following the procedure, although there is no downtime, and normal activities can resume immediately. The result is a healthier glow and subtle improvements that can increase with follow-up treatments at regular intervals to achieve the desired results.
Medium Chemical Peel
A medium peel removes several layers of the upper dermis to treat concerns on the face, neck and décolletage, such as:
√ sun damage
√ scars
√ discoloration
√ lines and wrinkles
√ environmental damage
√ roughness
Peeling will begin two or three days after the treatment and last for three to seven days, after which the result is noticeably smoother, fresher-looking skin.
Deep Chemical Peel
A deep peel is the most powerful chemical peel. The procedure takes longer and has a longer recovery time of about one week before producing dramatic results. This choice can be appropriate for a patient with:
√ extensive sun damage
√ deep acne scars
√ blotching skin
√ moderate lines and wrinkles
√ actinic keratosis precancerous growths
Following the treatment, at-home recovery generally consists of tight skin on the first day, flakiness on day two, followed by several days of heightened peeling and skin sensitivity, after which the skin begins to normalize.
The Peel for You
A chemical peel is one of the most customizable skin rejuvenation treatments for cosmetic enhancements. The highly trained aestheticians at The Woodlands Dermatology Associates can consult with you on your specific skin type and concerns to customize the right peel for you:
√ Glycolic Peel
√ Salicylic Peel
√ Mandelic Peel
√ VI Peel
√ Perfect Peel
Call 281.363.5050 to schedule a peel or consultation, and we'll make your skin our mission. And there's a cherry on top: Our $100 Yearly Peel Pass saves you 20% on peels throughout 2022, providing a timely opportunity to unveil the radiant skin awaiting you.