Mohs Surgery: The Gold Standard for Treating Common Skin Cancers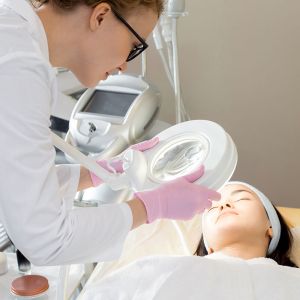 A multi-phase process for the most effective technique
Skin cancer is scary.
Fortunately, there's a highly effective surgical technique – Mohs Surgery – for treating two common skin cancers: basal cell carcinoma and squamous cell carcinomas. The surgery is performed by a skilled doctor who is highly trained to perform three roles: (i) as a surgeon to remove the cancerous tissue, (ii) as a pathologist to analyze the lab specimens, and (iii) as a surgeon to close or reconstruct the wound.
The Technique
Named for Dr. Frederick Mohs and advanced by Dr. Perry Robins, Mohs surgery is a multi-stage procedure during which the patient remains awake. Unlike other surgical options for skin cancer, a Mohs surgeon can see where the cancer stops, remove all cancerous cells for the highest cure rate, spare healthy tissue, and leave the smallest possible scar.
The Stages
While every Mohs surgery is unique to the patient, the process follows a specific order of stages.
Examination and preparation involve an exam of the cancerous area, potential marking of the area with a pen, positioning the patient for the surgeon's best access to the surgical area, and the injection of a local anesthetic to numb the area.
Removal of visible cancerous tissue is performed with a scalpel, and the surgical area is bandaged temporarily.
Lab analysis determines if there are cancerous roots or extensions to the tissue that was removed. The process for doing so involves meticulous, time-intensive mapping of the surgical site and dividing, freezing, cutting, placing tissue slices on microscope slides, and then staining and covering the tissue.
Microscopic examination allows the pathologist to examine the tissue from all angles to determine if there are any remaining cancerous cells in the surgical area. If so, the location is marked on the surgical map created in the previous step.
Removal of a second layer of tissue is conducted, based on the map, to precisely remove the remaining cancer cells.
Lab analysis and microscopic examination are conducted following the original processes, and removal of additional tissue continues until the margins are clear.
Wound repair involves either closing the wound with stitches, reconstructing the wound with a skin flap, or leaving the wound open to heal, depending on the size and location.
The Gold Standard Treatment
While the words 'skin cancer' are indeed frightening, there's great comfort in knowing Mohs surgery is impressively effective, including areas that are functionally and cosmetically important, such as the nose, lips, eye area, ears, scalp, fingers, and toes, among others.
The Woodlands Dermatology Associates has a widely acclaimed Mohs surgeon on staff, Dr. Julie Croley, who is widely acclaimed for her expertise in Mohs surgery and reconstructive surgery. If you have concerns about potential or diagnosed skin cancer issues, please call us at 281.363.5050 to schedule an appointment. Your skin will be our mission as we examine, diagnose and discuss the most appropriate treatment plan for you.